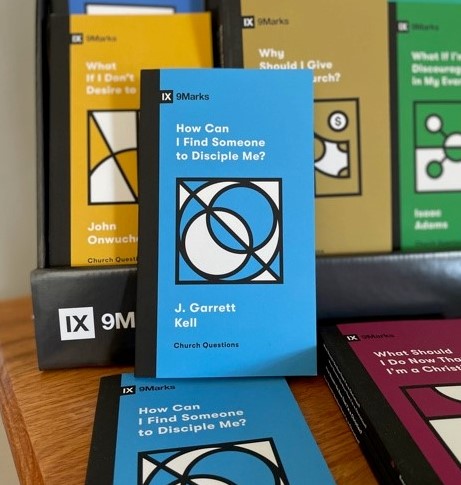 "If any man thinks ill of you, do not be angry, for you are worse than he thinks you to be." — a reminder of who we were without Christ and our constant need for sanctification, this humbling quote from Charles Spurgeon is one of many great references included in J. Garrett Kell's small but potent book, How Can I Find Someone to Disciple Me? 
In this part of a series of small books entitled "Church Questions," the author, Kell, succinctly addresses discipleship—what it is, what it looks like, tips for finding someone to disciple you, and potential pitfalls. As Paul wrote to the Corinthian church in 1 Corinthians 11:1, "Be imitators of me as I am of Christ." Christians should be constantly striving to imitate Christ. Discipleship is a key component of Christ-like living as we lean on the body of Christ to grow one another.
When all else fails, search for the people who "radiate the life of Jesus and spend time with them."
One of my favorite things about this book is its simplicity. Kell rightly makes light of the fact that finding someone to disciple you does not have to be made difficult. It just has to start with a desire to pursue God as well as being prayerful, discerning, having openness to correction, flexibility, and patience. Another one of my favorite sections is when Kell addresses the qualities of a good disciple. He lists and discusses four points of consideration when seeking someone to disciple you. My favorite of the four was finding someone who is "faithful not famous"—someone who is more concerned with being faithful to Christ rather than receiving recognition or status for their work. When all else fails, search for the people who "radiate the life of Jesus and spend time with them."
A third piece that stood out to me is when Kell says, "Everything we do or discuss in these relationships should be done with the last day in view." As Christians await the glorious day when Jesus returns to earth, we should live our lives in a way that reflects the accomplishment of Christ on the cross. Discipleship is one way we can do that.
My only critique of this book is that I felt it could have addressed the role of the discipler in more depth. I recognize this is not the main intent of the book, but Kell does mention it and thus I feel it would have been helpful to have him expound on this.
Personally, I often find myself getting wrapped up in complex texts, but even the most adept Christian and theologian need the fundamental pillars of a Christian life. Luke 6:48 says, "He is like a man building a house, who dug deep and laid the foundation on the rock. And when a flood arose, the stream broke against that house and could not shake it, because it had been well built." We see the results of a strong foundation, but if you keep reading in Luke take note of the disastrous effect of building on a weak foundation.
I recommend this small yet wise book to any Christian. Mature and immature Christians alike will benefit, and both will grow from discipling relationships. Build a strong foundation for your life, pursue Christ, and look forward with hope to the coming of the Lord!
By Logan Gailitis